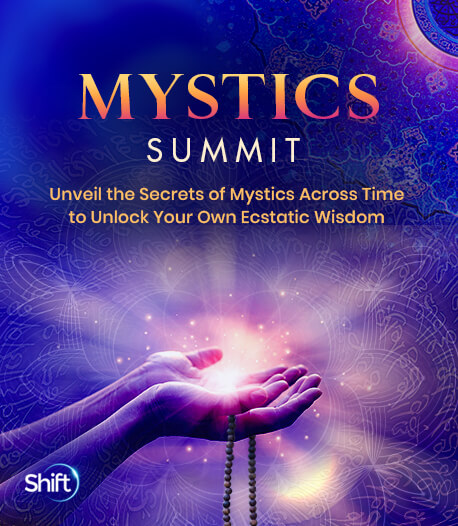 Program & Replays

Walking Nature's Mystical Path
Broadcast on August 17, 2022
With Alexander John Shaia, PhD
Hosted by Mike Morrell
Everything is spiritual, including nature and its embodied sensuality. Alexander John Shaia, PhD, invites us to pause and re-member. Come home to what is. Come home to Nature. Come home to your own senses and sensuality. You are a mystic already. This is the root practice across great spiritual traditions.
In this session, you'll discover:
Everyone is a mystic
Imagery and sensuality are a significant path to the mystical that is universally accessible
The way of imagery and sensuality employ a different method than "self-emptying" mysticism
The opinions expressed here are those of the author/presenter and are not representative of Shift Network employees, customers, or other presenters.
Love this Speaker and What They Have to Say?
It can be yours to keep... forever.
Get lifetime access to the summit and bonus material by upgrading now!
UPGRADE HERE
Alexander John Shaia, PhD
Founder and Animator of Quadratos: Four Paths, One Journey of Transformation
Born and raised in Birmingham, Alabama, Alexander John Shaia was part of a large extended family that had emigrated from Lebanon a generation previously. He grew up immersed in the ancient traditions of Middle Eastern Christianity (Maronite Catholicism) and was expected to become a priest, a family tradition since the year 1300. He was led otherwise.
Alexander John received a degree in Cultural Anthropology from the University of Notre Dame and was also privileged to learn from Joseph Campbell. Next came a brief time in seminary followed by a master's in Counseling Education, a master's in Religious Education, a graduate certificate in Pastoral Psychotherapy, and a PhD in Clinical Psychology.
His extensive psychological training across many modalities finally led him to Switzerland where he studied with Dora Maria Kalff, a Jungian analyst and founder of Sandplay Psychotherapy. Alexander John became the first U.S. man admitted to the International Society for Sandplay Therapy — and continues to serve as a senior Certified Teaching Member of the organization.
Returning to the United States, he undertook years of private practice, teaching and leading retreats across world spiritual traditions, and further study. Integrating his lifelong practice of prayer with many cross-disciplines — anthropology, psychology, spirituality, and ritual work, as well as being openly gay — has shaped him into a unique thought leader, prolific author, and widely sought-after consultant, trainer, and inspiring speaker. He is also the founder of Quadratos — a four-path journey for radical transformation.