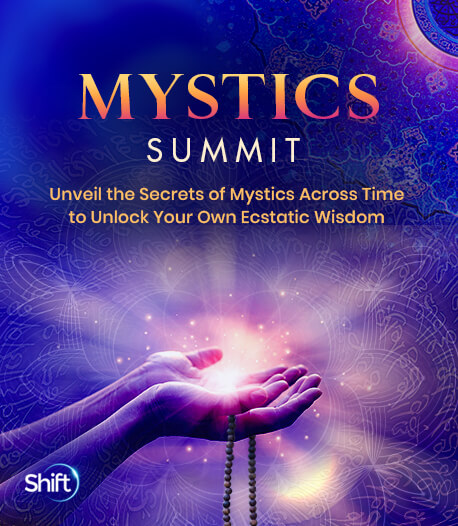 Program & Replays

Storytelling Initiates Us
Broadcast on August 16, 2022
With Gareth Higgins
Hosted by Mike Morrell
To be fully human is to experience life as a participant in an interdependent community of people, place, and other living things, gifted with a calling to serve the common good, and relationships with those who can help us meet our needs. To truly live requires courage, creativity, and community. Gareth Higgins shares the good news that all three await anyone willing to ask for them.
In this session, you'll discover:
To love others as we love ourselves is perhaps the greatest truth of all wisdom traditions
To truly follow this, we must know who — and what — we really are, a wisdom that comes only by initiation
When we ask for initiation, we can expect it to happen — if we are open to a new story of ourselves and the world
The opinions expressed here are those of the author/presenter and are not representative of Shift Network employees, customers, or other presenters.
Love this Speaker and What They Have to Say?
It can be yours to keep... forever.
Get lifetime access to the summit and bonus material by upgrading now!
UPGRADE HERE
Gareth Higgins
Writer, Storyteller & Community Convenor
Gareth Higgins was born in Belfast in 1975, grew up during the northern Ireland Troubles, and now lives in the U.S. He writes and speaks about the power of storytelling to shape our lives and world, peace, making justice, and how to take life seriously without believing your own propaganda. He has been involved in peace building and violence reduction in northern Ireland and helping to address the legacy of conflict. Gareth holds a PhD in sociology, and helped teach the world's first graduate course in reconciliation studies at Trinity College Dublin. He also helped found the Wild Goose, and other festivals. Gareth leads retreats in North America.
Brian McLaren says Gareth's book How Not to Be Afraid: Seven Ways to Live When Everything Seems Terrifying... is "a beautiful book," Kathleen Norris says it's "a necessary book," and Micky ScottBey Jones says it's "a much-needed resource for skill-building through our fear and trauma, so that we might create the belonging and communities we desire." Nadia Bolz-Weber says "I totally trust Gareth Higgins when he writes about his own fear and how it's actually possible to transform it into something powerful, something capable of healing us and the world." Pádraig Ó Tuama says "Gareth Higgins is a friend. This book is too."

Gareth is happy to be a work in progress and welcomes life as an invitation to share with each other in initiation as participants in the evolution of love, courage, creativity and community.