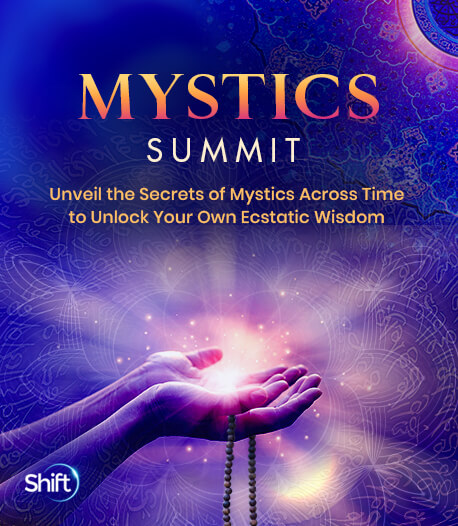 Program & Replays

Welcome Message From Your Summit Hosts
With Mike Morrell & Carmen Acevedo Butcher, PhD
Mike Morrell: Welcome to the second annual Shift Network Mystics Summit series. I'm Mike Morrell. If you're here, I'm imagining that you're feeling the call to more spaciously inhabit your own life as you find loving and anchored ways to connect to spirit, yourself, each other, and our world.

Carmen Acevedo Butcher: I'm Carmen Acevedo Butcher, contemplative teacher, author, translator, and mystic. And I am so happy that you're here.

Mike Morrell: We're so excited to be bringing you mystical teachers who bring a wealth of insight and experience. I'm really looking forward to introducing you to dialogues with people like Gareth Higgins, who teaches us how to befriend our fear, and Micky ScottBey Jones, who reveals the contemplative wisdom of the Enneagram.
Carmen Acevedo Butcher: And Father Greg Boyle, the founder of Homeboy Industries, who tells us a holy story of hope, death, and a warm burrito. Also, we hear from Dr. James Finley, who teaches us how our spiritual resources can be something very helpful in our healing.
Mike Morrell: One of the common threads that I'm hearing from all of our Mystics Summit series teachers is just how vital this work is right here and right now. Far from being some kind of a flight of fancy, away from the world of flesh and bones and bills and deadlines, this mystical path is a call to re-inhabit the right here and the right now in a more sacred and intentional way. And we're so glad to be providing you with teachers who are giving us the practical tools to do just that.
Carmen Acevedo Butcher: These conversations have blessed us and we know that they'll bless you too, with hope and self-compassion, growth, compassion for others, and unshakable joy. We're looking forward to seeing you there.
Mike Morrell
Co-Founder, Wild Goose Festival; Founder, Wisdom Camp
Mike Morrell is the collaborating author, with Father Richard Rohr, on The Divine Dance: The Trinity and Your Transformation, as well as the founder of Wisdom Camp, and a founding organizer of the Wild Goose Festival. Mike curates contemplative and community experiences via relational skills, taking joy in holding space for the extraordinary transformation that can take place at the intersection of anticipation, imagination, and radical acceptance. 
Carmen Acevedo Butcher, PhD
Author, Teacher, Poet & Award-Winning Translator of Spiritual Texts
Carmen Acevedo Butcher, PhD, is an internationally acclaimed speaker, author, educator, poet, and translator of spiritual texts. Her dynamic work around the evolution of language and the necessity of just and inclusive language has garnered interest from various media, including the BBC and NPR's Morning Edition. From a young age, she was drawn to Brother Lawrence's "practicing the presence" prayer, and with degrees in medieval studies and a linguistics background, Carmen brings history to life and makes its wisdom widely accessible and useful for healing, growth, and peace. She is the award-winning translator of classics such as Practice of the Presence by Brother Lawrence… The Cloud of Unknowing, an anonymous work of Christian mysticism… Hildegard of Bingen: A Spiritual Reader… and A Little Daily Wisdom: Christian Women Mystics. Her teaching reinvigorates the timeless insights of the humble French friar Brother Lawrence, The Cloud's engaging contemplative teacher Anonymous, the creative genius Hildegard, and the deeply loving Julian of Norwich, among others. A Carnegie Foundation Professor of the Year and Fulbright Senior Lecturer, Carmen currently teaches at the University of California, Berkeley in the college writing programs.