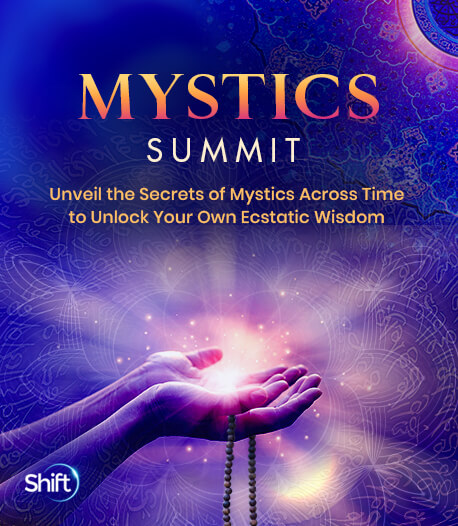 Program & Replays

Everyday Mystic
Broadcast on August 16, 2022
With Banafsheh Sayyad
Hosted by Mike Morrell
Our "knowing" resides mostly in our heads and is therefore abstract, until it is embodied. What we can know in and through the body is more concrete and true. If we cannot verify and uncover a mystical or universal idea in the body, then it is only a rumor because as the famous hermetic maxim goes, "As above so below." Join Banafsheh Sayyad, teaching that mystical truths are meant to be lived, evolving us in our day to day living.
In this session, you'll discover:
A profound appreciation for the wisdom of the body
The inspiration to embody abstract mystical ideas in day to day life for wholeness and greater happiness
That you have the power in every moment to choose how you feel and how you show up in the world
The opinions expressed here are those of the author/presenter and are not representative of Shift Network employees, customers, or other presenters.
Love this Speaker and What They Have to Say?
It can be yours to keep... forever.
Get lifetime access to the summit and bonus material by upgrading now!
UPGRADE HERE
Banafsheh Sayyad
Sacred Dancer & Founder of Dance of Oneness®
Banafsheh Sayyad is a Persian master sacred dancer, choreographer, acupuncturist, transformational teacher, and the founder of Dance of Oneness®. A deeply profound and highly accessible spiritual teacher of embodiment, Banafsheh performs and teaches internationally, initiating people into the wisdom of their bodies. Her signature style of holy wildness infused with ancient wisdom, activates transformation and illumination in all those who watch and dance with her from around the globe.
Banafsheh invites the dancer within to remember, reclaim, and resource the innate healing intelligence spiraling in us and all around us. Her easeful instruction and welcoming spirit empowers students to feel a true sense of belonging in their bodies. Students experience more passion in their lives, by integrating wisdom teachings from throughout the ages.
She is among the few virtuosos of authentic Persian dance in the world, and a pioneer in creating a liberated feminine expression in the Sufi dance genre, previously performed only by men. Her modality, Dance of Oneness®, is a spiritual path and a science of embodiment. It is a fusion of three dimensions, including healing, wisdom teachings, and the rigorous technique and self-expression of the art of dance.
Banafsheh has a masters degree in dance and choreography from UCLA, and a masters degree in Traditional Chinese Medicine. Her award-winning work has been presented throughout North America, Europe, and Australia. Her dance film, In the Fire of Grace, with Andrew Harvey, traces Rumi's journey of the soul in dance.